In Lynchburg, you will find a group of born-again Christian Harley Davidson bikers, right out of central casting, who run a thrift store and Biker Church. It's called "Rock Solid Motorcycle Ministries."
Address:
2034 Fort Ave., Lynchburg, VA
Directions:
Fort Ave. and Campbell Ave., SE corner.
Hours:
Store – M, Tu, Th, F 9 am -7 pm, W 9 am- 5 pm, Sa 9 am- 1 pm. Church Th 6-8 pm. (Call to verify)
Phone:
434-846-0289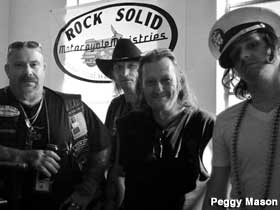 Thanks to Peggy Mason we found this church to place in our directory.